Gallery Katariina presents Hannele Kumpulainen's exhibition ELLENDÄN – Turn of the Ornament 3–26 March, 2023. 
Welcome to the exhibition opening on Thursday, March 2nd 5–7 pm!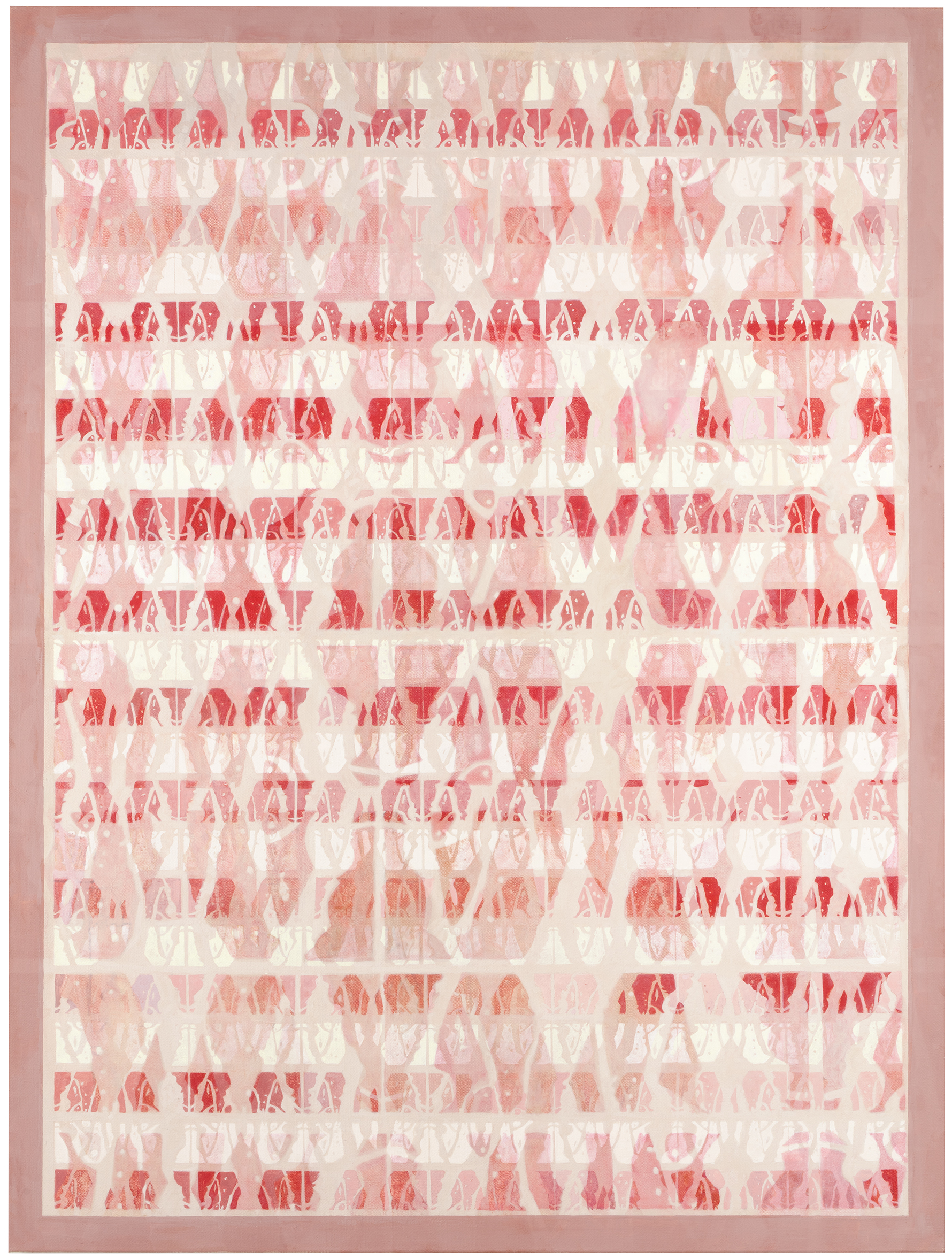 Hannele Kumpulainen: Paikka äärettömälle, tempera and oil, 2022, 200x150cm 
Hannele Kumpulainen: ELLENDÄN – Turn of the Ornament  
Hannele Kumpulainen made a field trip to areas in Karelia that now belong or have belonged to Finland and regions that have never been part of the Finnish state. During the tour Kumpulainen searched for stains, recording their shapes. Based on this collection, she developed an ornamental painting series. The series' composition relates to the collection areas' traditional handicraft, overshot patterns woven with red yarn.  
With stain, Kumpulainen refers to Karelianness, which has been perceived as a problem in Finland, the Soviet Union and Russia. In Finland Orthodox Border Karelians were not compatible with the main culture because of their language, religion and traditions. Even the design language of the Orthodox church architecture as Russian remnant had to face changes. The whole Karelian language was silenced.  
Ellendän was the first Karelian word Kumpulainen learned as a child from her Karelian mother. The assimilation of Karelians into the Finnish society has been a heartbreaking chain of events, although the reasons for the annulment can be understood under the circumstances. However, it's very difficult to accept the fact that the history of an entire section of the population is not even taught in schools – or that this native language is not granted a legal status.  
Kumpulainen's Karelian ornament is driven by hatred and shame, but so is love and trust. The ornament calls for the lavish; nothing is in vain for it. It gives space to the continuous, a place to one without it.  
Hannele Kumpulainen's artistic work has been supported by the Arts Promotion Centre and the Finnish Cultural Foundation. 
*******
Hannele Kumpulainen: ELLENDÄN – Čomenduksen vuoro
"Tein keriändymatkan Karjaloih alovehil, kudamat nygyzin kuulutah libo ollah kuuluttuh Suomeh da alovehil, kudamat ei nikonzu olla kuuluttuh Suomen valdivoh. Ečin matkallani tačmoi, kudamien muvvot tallendin. Tämän kerävyksen pohjal olen kehittänyh ornamentualizen mualavussarjan, kuduan muodokieli on suguu keriändyalovehien perindehizel kangahančomendustaijol, ruskeipoimindal.
Vihjuan tačmal karjalažuoh, kudai on nähty ongelmakse Suomes, Nevvostoliitos da Ven`al. Suomen puolel pravoslaunoloit rajakarjalazet kielen, kultuuran da vieron täh ei sovittu yhtenäzyskul`tuurah. Daže koskiettih kirikköarhitektuuran muodokieleh, kudai nähtih ven`alaizennu jjiännöksenny. Kogonaine kieli, karjala, vaikastutettih.
Ellendän (suomekse ymmärrän) oli ezmäi karjalankieline sana, kuduan opastuin lapsennu minun karjalazel muamolpäi. Karjalaziin sulavundu suomelažuoh on olluh syväindy murjuoju tapahtumiin sarju, hot` aijas nähtynny tupehtuttamizen tagaperäšeikkoi voibi ellendiägi. Vaigiedu yhtelläh on suvaija sidä, što kogonazen rahvaliston ozan histourii on peitetty školan opastuspluanasš – libo što kodiperäizel karjalan kielel ei anneta zagonanmugastu azemua.
Minun karjalaine ornamentu sua voimua vihas da huigeis, no sežo suvaičukses da luottamizes. Ornamentu kuččuo liijallistu, nimidä nečel eule tyhjiä. Se andau sijan jatkujal, paikan paikatoil."