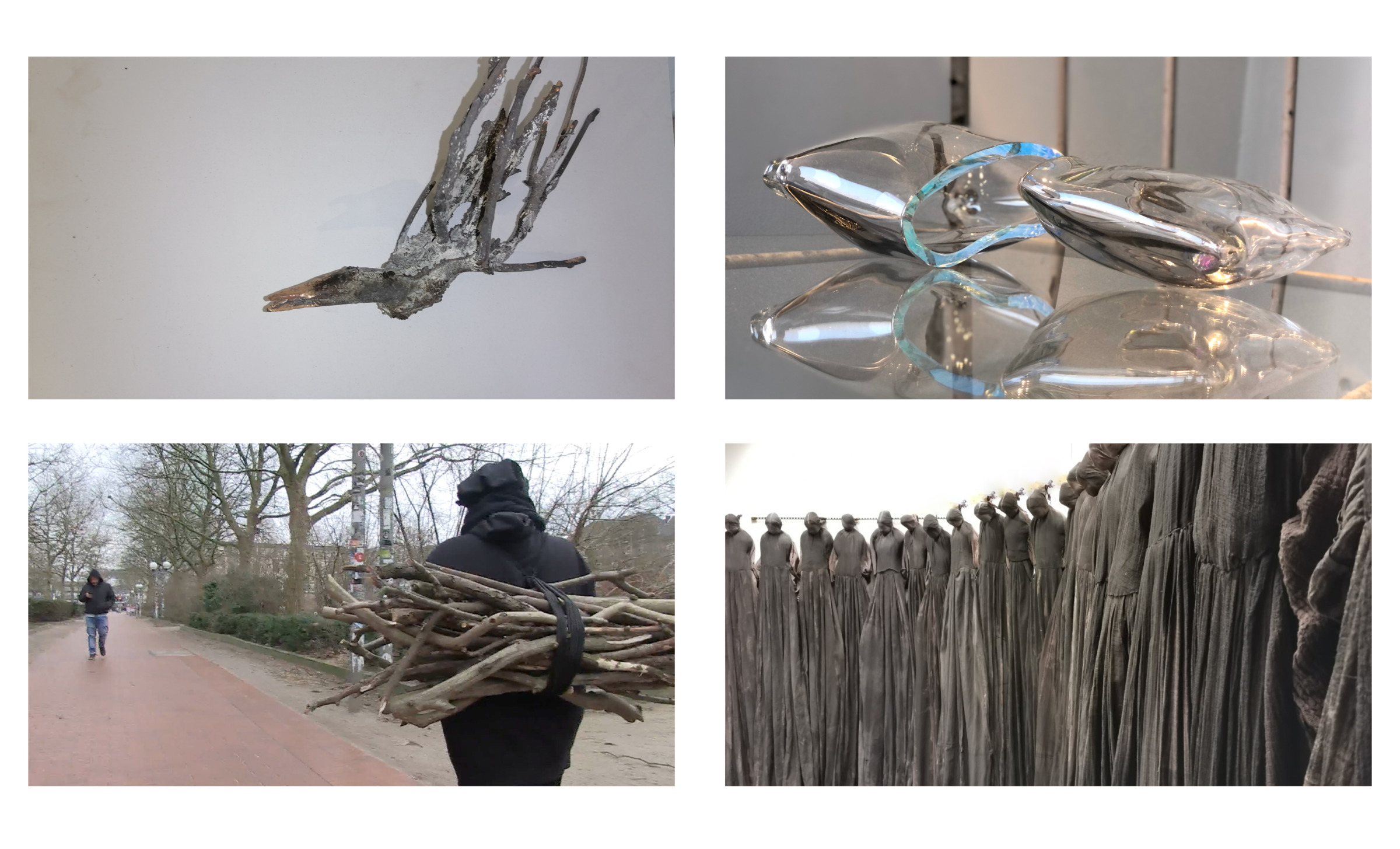 HAA Gallery presents the group exhibition Four rooms by Maija Helasvuo, Helinä Hukkataival, Johanna Ilvessalo and Anne Tompuri 4–28 August 2022. 
Welcome to the opening of the exhibition on Wednesday 3th August from 5pm to 7pm!
We follow the current guidelines by Regional State Administrative Agencies to ensure a safe exhibition visit. 
THE FRAGILE NATURE OF LIFE EXUDES POWER AT SUOMENLINNA'S SUMMER EXHIBITION
Four rooms: Maija Helasvuo, Helinä Hukkataival, Johanna Ilvessalo, Anne Tompuri
HAA Gallery, Suomenlinna 4–28 August 2022
The HAA Gallery's Four Rooms exhibition's installations, sculptures and works of video art form a totality that conveys the fragility of human life. The versatile use of materials and techniques makes it possible to consider the temporariness of life from many perspectives. The exhibition, which is on display in two vaulted spaces, is titled Four rooms, referring to the previous group exhibitions of the participating artists.
The artist group was formed in response to the group exhibition Five rooms at Kunsthalle Helsinki in 2007. There were five artists involved at the time, and five rooms were reserved for them in Kunsthalle Helsinki. In later exhibitions, the number of participants and the division of spaces have changed. "Room" has come to mean a personal experience of space and boundaries.
Suomenlinna's HAA Gallery exhibition features four distinguished artists with a long career. The first space is shared by performance and video artist Helinä Hukkataival and painter Anne Tompuri. The works of sculptor Maija Helasvuo and sculptor and visual artist Johanna Ilvessalo can be seen in the second space.
Johanna Ilvessalo's hard materials, such as steel and glass, reflect how life can break one and tear one apart. Memories are captured by old accessories that are floating as images behind the surface of a mirror. In Maija Helasvuo's work, the root system of a tree is organically branched like blood vessels. Accepting the inevitable creates new life in the branches. Ilvessalo and Helasvuo's sculptural art is linked by the use of light and shadow.
Helinä Hukkataival's three video documentaries shown on the screen depict the opposing aspects of life: ageing, work and hobbies. The middle-aged Cabaret ladies in their 70s and 80s honour joy as a lifelong opportunity through their dance performances. Sticks and Branches is a documentation of Hukkataival's long-term performance in Hamburg in 2018. In the performance, the artist portrays a character called Martta who is dressed in dark clothing and collects branches and carries them in a bundle on her back across the city. Martta's stooping, hard-working figure parallels Anne Tompuri's massive array of black gauzy female figures. The sadness of the three-dimensional painting washes over the viewer in a delicate and powerful way.
An artist's work requires its own space. The possibility of temporary isolation is part of the work process. The room itself is an instrument and a tool for making art. For a brief moment, the doors of the four artists' rooms have been opened to each other in the exhibition area of HAA Gallery.
Text by Pasi Salonen / taidos.fi
Johanna Ilvessalo (b. 1964) is a visual artist and sculptor from Helsinki. In Ilvessalo's installations, the selection of materials plays a significant role. Her works are built from images, movement, light, shadow and soundscapes. Ilvessalo's works can be found in the collections of several foundations, the state, cities and museums.
Maija Helasvuo (b. 1968) is a sculptor from Hyvinkää. Helasvuo makes extensive use of wood in her works, combining many different types of wood in her installation-style sculptures. Her works depict layers of emotions and reciprocity. Helasvuo's works can be found in the collections of foundations, the state, cities and museums.
Helinä Hukkataival (b. 1941) is a performance and media artist from Tampere. Hukkataival is best known for her career as a performance artist that began in the 1990s. Today, her tools also include video and photography. In her works, Hukkataival often describes life through the eyes of a woman. She was awarded the State Prize for the Visual Arts in 2004.
Anne Tompuri (b. 1958) is a painter from Lappeenranta. Her works can be found in many major museums in Finland and foundation collections. Tompuri uses a lot of black pigment in her emotionally charged works. She aims to portray the importance of light and life by using dramatic contrasts.