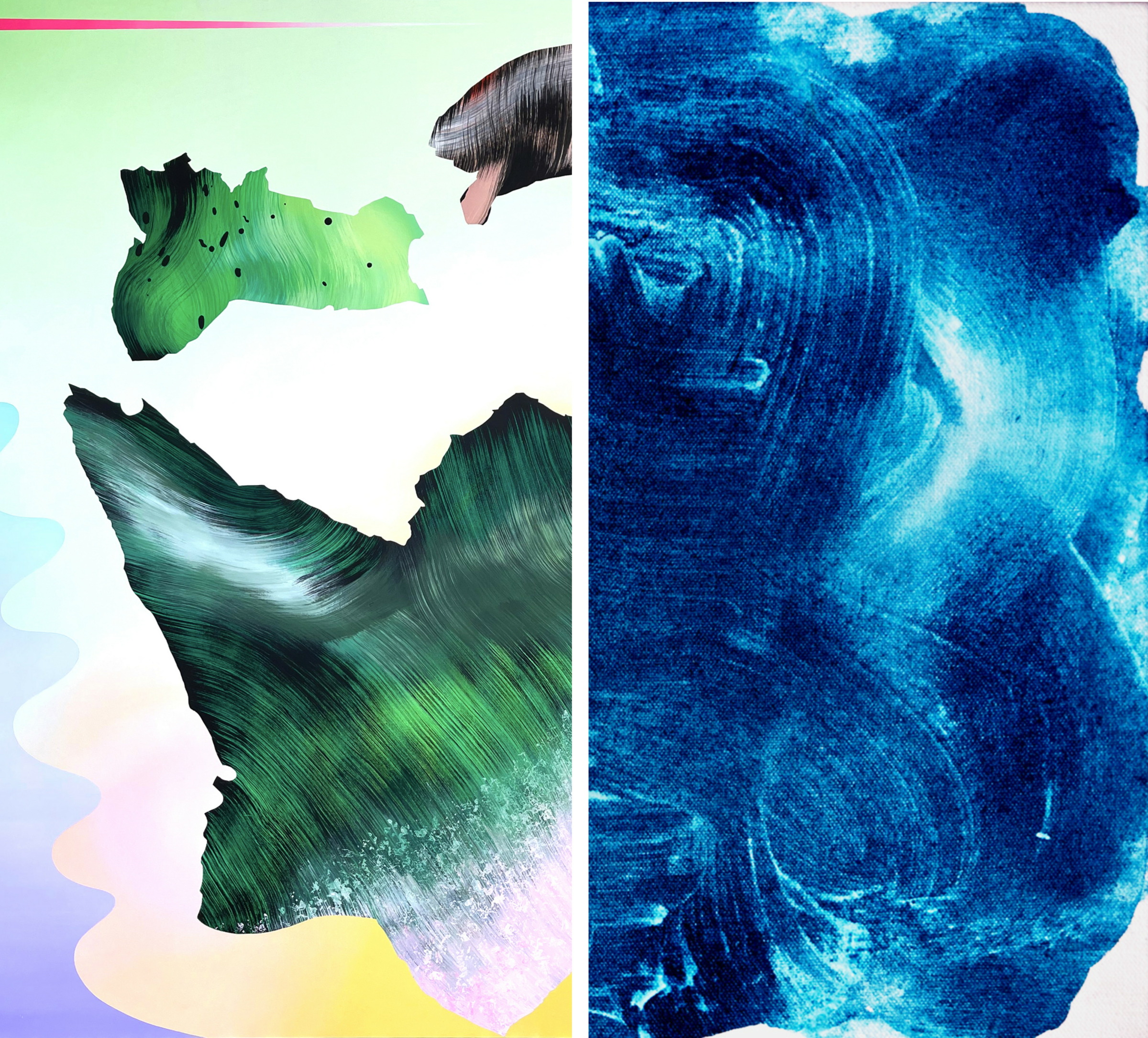 Mirjam Hinn: Colors That Never Fade (EE) & Heidi Anniina Mattila: Sinisessä / In Blue (FI) 
Art co-operation on both sides of the Gulf of Finland 
The Helsinki Artists' Association and the Estonian Painters' Association are creating new forms of art co-operation between countries. In 2022, big steps have been taken in the exchange of exhibitions, event planning and the transmission of know-how. In the summer, a large joint The Sea exhibition will be held at HAA Gallery in Suomenlinna and Malmitalo gallery 4.6.–30.7.2022. 
A rich curated selection of paintings, photographs, graphics, video art, sculptures and installations from both countries will be displayed at the galleries: HAA Gallery presents works by 35 artists and Malmitalo gallery works by 13 artists. HAA Gallery presents works by Tuula Aalto, Vano Allsalu, Toomas Altnurme, Svetlana Bogatcheva, Herlet Elvisto, Pille Ernesaks, Mirjam Hinn, Mirja Ilkka, Rozalia Janovic, Ivar Kaasik, Annu Kapulainen, Jüri Kask, Laura Konttinen, Liis Koger, Andres Koort, Harri Kosonen, Alex Markwith, Jussi Meuronen, Lilian Mosolainen, Kari Paajanen, Tiina Pensola, Tero Puha, Merja Puuperä, Enn Põldroos, Alexander Salvesen, Sophie Schubakoff, Mia Seppälä, Päivi Säävälä, Marja Söderlund, Annimari Taivalsaari, Rose-Maria Torpo, Gua Vainio, Katrin Valgemäe, Aili Vint and Toomas Vint. Malmitalo gallery presents works by Elina Autio, Stanislav Antipov, Jakke Haapanen, Susanna Iivanainen, Unski Immonen, Saskia Järve, Heidi Anniina Mattila, Johanna Mudist, Peeter Must, Per-William Petersen, Karin Strohm, Johanna Virtanen and Rita Vargas.  
The main opening will be held on Friday, June 3, 5–7 pm at HAA Gallery. The exhibition will be opened by Heidi Hautala, Member of the European Parliament, and Imbi Paju, a writer and film director. Music is provided by Kairi Leivo, who has also made a career as a press, information and culture manager in Estonian embassies. Since 2018, Leivo has been a recognized freelance musician and promoter of traditional culture.  
You are welcome to explore the exhibition and to get to know curators and artists at our opening ceremony starting on 3 June at 5 pm! 
Curators' words from The Sea exhibition
Although the sea as a given theme seemed a little clichéd, there were multidimensional approach angles to the subject in the works offered. The Estonians' artworks highlighted relaxed irony and conceptual humour. In Estonian visual art, narrative and storytelling have been essential, while Finnish art has strived for more abstract imagery. Now these seemed to happily mix on both sides of the sea.

– Mika Vesalahti
Starting an art-based collaboration between our two neighboring countries, we are at the beginning of a long and exciting journey. In order to select the works of the first joint exhibition, I grasped the special features of Finnish art that powerfully stood out in the context of Estonia's selection of paintings. As a whole, I have noticed a strong ontological content in Finnish art; as if the works are emphasizing the forms of pre-word cognition and the phenomenal connection between man and nature. Every painting is a mystery, every spatial object – a "thought machine".
– Tiiu Rebane 
Since the liberation of Estonia, I have followed the Estonian art field with great interest. As an artist by myself I have also been able to organize several exhibitions of Finnish artists in Estonia. However, I have always dreamed of our joint exhibitions and now, through this project of the Helsinki Artists' Association's HAA Europe, it has been a great pleasure for me to be involved in collaboration with the artists of the Estonian Painters' Association. This cooperation has also taken place at a time when there is horrible war in the middle of Europe. I'm grateful for all the directions that make this co-operation possible, despite the situation at Ukraine, I still be happy to continue the co-operation, and I welcome everyone to our interesting and high-quality summer exhibitions at Malmitalo gallery and HAA Gallery (Rantakasarmi).
– Satu Kalliokuusi 
When I was invited to this project, the joint exhibition between Finland and Estonia had already been named MERI. The sea means the same thing in Both Finnish and Estonian, which is already a 50:50 situation in its starting point and thus a very good concept in this context! The themes of painting exhibitions are often as they are, the painting depicted does not necessarily correspond to the content or field of meaning of the work. 
The sea separates us into countries, and also connects – life is paradoxical. Seawater is the most similar in chemical/biological composition to human blood. It is believed that life on Earth just emerged from the water, the early sea. Perhaps that is why many Scandinavians have the desire to spend a holiday by the warm sea, their feet literally in the water. The high consumption associated with mass tourism, combined with weak legislation on the protection of nature and the environment, has brought the world's marine pollution to a point that would be unreasonable to ignore.
– Jaan Elken