HAA Gallery presents the exhibitions Ten years of rubbish, junk, trash, and beauty by Kristiina Tuura and Connection by Ilona Romunen 14.1.–5.2.2022. 
You are warmly welcome to explore the exhibition already on Thursday the 13th January 5–7 pm! We follow the given guidelines and hygiene requirements by Regional State Administrative Agencies.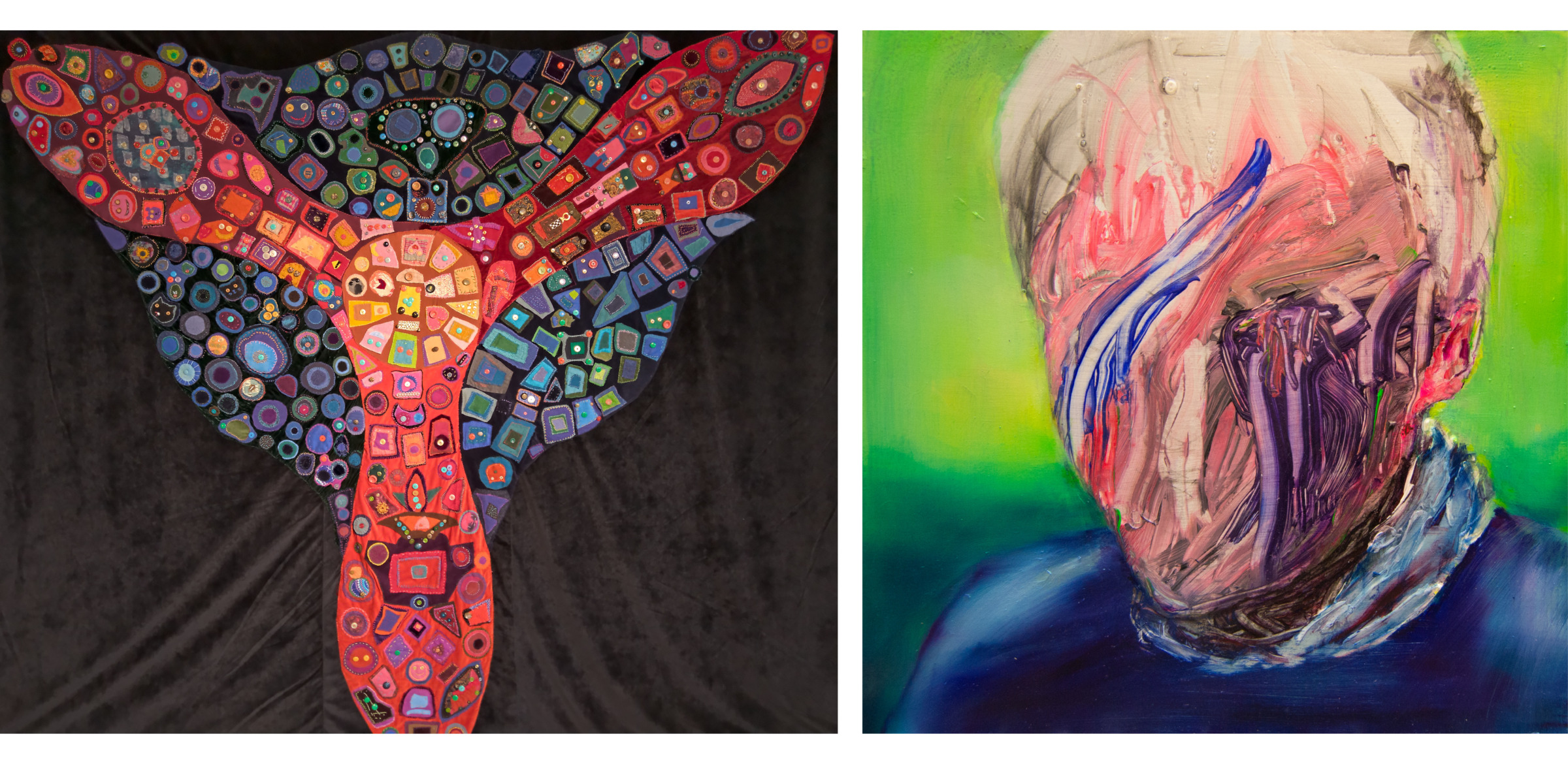 From left to right: Kristiina Tuura: Radiolarian, textile application & Ilona Romunen: The Viewer, acrylic and oil, 50 cm x 50 cm.
Kristiina Tuura: Ten years of rubbish, junk, trash, and beauty
Kristiina (Tikke) Tuura (MA) is an environmental and installation artist and film maker based in Helsinki.
This exhibition features eight of Tuura's works using plastic waste or textile materials, made over the past ten years. Installations based on Tuura's work with refugees are not included in this exhibition.
Tuura's working materials are often rubbish found in the environment, including abandoned plastic toys and other discarded objects. Rubbish is transformed into beauty as part of a huge Giant's Lantern (Jättiläisen lyhty), made with respect for traditional Syrian lanterns, or a Plastic Garden (Muovipuutarha) that mimics a botanical garden. The small showcase in the Kids Room series (Lastenhuone-sarja) uses pieces of disposable Easter eggs.
Tuura began to create installations using rubbish at a time when plastic recycling was not yet commonplace in Finland. The installations were born as a comment on the strange. In recent years, Tuura's focus has shifted more to the practice of sustainable development. The Patch on a Patch (Paikka paikan päällä) project was intended to teach schoolchildren how to darn, patch textiles, and sew a button. From these patches, Tuura sewed a textile application called Radiolarian (Säde-eläin), a unicellular organism found in the ocean. The odd socks are material for the installation titled The World of Microbes (Mikrobien maailmassa).
Tuura's large site-specific installations made from debris reclaimed from the Baltic sea, as well as smaller community art installations, can be seen in the accompanying video.
In several of Tuura's works, children and young people have acted both as inspiration and assistants. Help has been provided by Muuttopalvelu Kengurut, Valofirma Oy and numerous friends. Tuura's partners have been the Stoa Cultural Center, Puistopolku Primary School, the Helinä Rautavaara Museum, Helsinki Design Week, the Children and Youth Foundation, the Divers for the Baltic Sea Association, and the Keep the Archipelago Tidy Association. Technical assistance has been provided by Pekka Järvilehto.
Ilona Romunen: Connection
Connection
About connection and disconnection.
Screens, frames and squares.
Rooms. Streams and feeds.
About longing and forgetting.
Small animals and gaze.
About turning points and contacts and access.
In her exhibition Connection, Ilona Romunen examines connection and disconnection. The exhibition consists of a series of acrylic and oil paintings.