Upcoming! Malmitalo gallery presents the exhibition HORSE.MONKEY.SHADOW.CLIFF by Scottish-Finnish artist Anneli Holmström 23 November – 16 December, 2023.
Welcome to the exhibition opening on Wednesday, 22 November 5–7pm!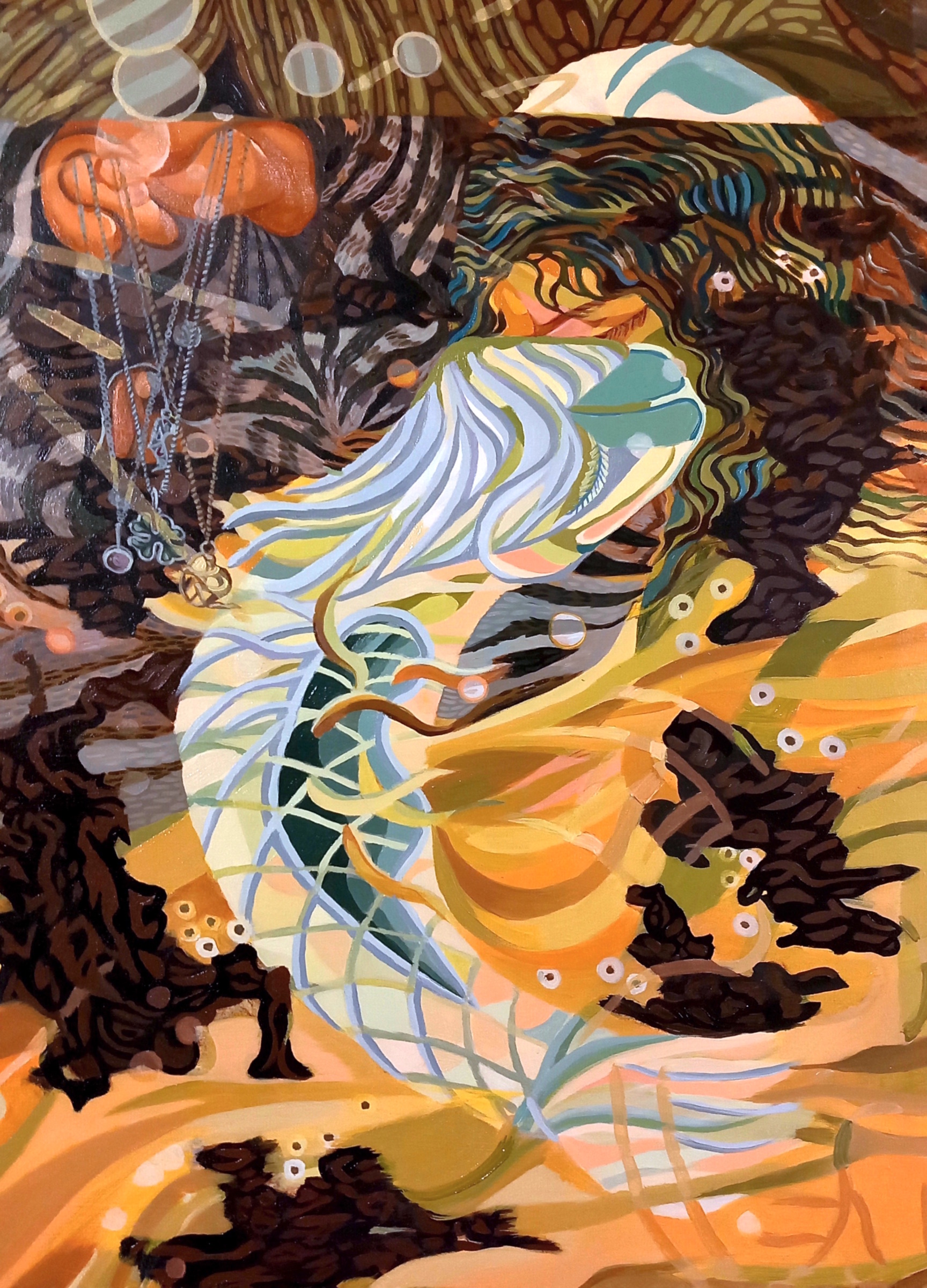 Image: Anneli Holmström
Anneli Holmström: HORSE.MONKEY.SHADOW.CLIFF
HORSE.MONKEY.SHADOW.CLIFF
is a narrative painting exhibition about storytelling, painting, and how stories help us frame our experience.
The works on show are a selection of a larger evolving series with the same name begun in 2021. As the title of the show indicates, the painting series charts four story threads that within the exhibition are reordered and re-woven to form fresh story chains. Across the series, close attention is paid to the 'visual network' both within singular paintings and across an image sequence. Unlike in typical illustrations, the stories in these paintings are self-generative with pictorial motifs, characters and landscapes continually re-mined to form new poetic relationships.
Like a random passage from a book – or a broken dream sequence – each painting is a visual fragment that aspires to a larger narrative beyond its own frame. This sense of mutability is likewise extended to the fluid state of the characters in the paintings which can readily shift between non-human and human forms. Unlike in more linear stories, the narratives in these paintings are not anchored by central protagonists or bodily forms – instead they are granted freedom to move effortlessly between animal, mineral, domestic or organic shapes.
What this exhibition aims to offer is a multilayered storytelling site – one that invites the viewer as an active reader in the gathering and bridging of the imagery.
The exhibition has been supported by TAIKE (Arts Promotion Centre Finland), Konstsamfundet, Svenska Kulturfonden and the Helsinki Artists' Association.
Anneli Holmström (b. 1985) is a Scottish-Finnish visual artist currently living and working in Jakobstad, Finland. Since graduating with her Master's degree from Edinburgh College of Art in 2009, she has exhibited widely in solo and group exhibitions in both her home countries of Finland and Scotland, and elsewhere abroad. Starting from an expanded painting approach, Anneli's work often combines painting methods with sculptural, performative and collaborative aspects. Her aesthetics is one which embraces ambiguity and open-endedness – a take that puts faith in visual storytelling as a tool for articulating pre-verbal feeling and knowledge.